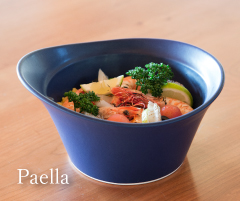 Ingredients (serves 3 to 4)
1.5 cups unwashed rice
3.5 oz squid
4 shrimps
7 oz clams
1/2 onion, minced
1 garlic clove, minced
1 slice of bacon, minced
pinch of parsley
3 lemon slices
1.7 cups water
Saffron
-Soup-
2 teaspoons of salt
pinch of black pepper
1 tablespoon of cooking sake
0.5 oz butter
Directions
1. Soak the saffron in 1.7cups of water in your HACHI
to extract the flavor. Then add mixture soup, and heat until
dissolved. Then place in a separate bowl.
2. Fry the squid and prawns in your HACHI, and place on
a separate plate.
3. Fry the onion, garlic, and bacon in your HACHI until done.
4. Add the rice to 3, and cook in butter.
5. Level the mixture. Slowly add the soup from 1, then carefully
top with the squid, prawns, and clams. Cover and cook over
medium heat for about 8 minutes. Turn off heat,
then let steam for 20 minutes. Finally, garnish with the parsley
and lemon slices.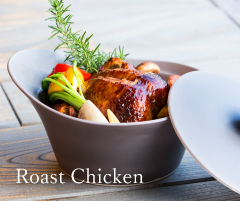 Ingredients (serves 3 to 4)
1 whole chicken leg
salt
black pepper
garam masala
cayenne peppe
Directions
1. Prick chicken leg with a fork and season with salt and pepper.
2. Rub cayenne pepper and garam masala thoroughly
onto chicken leg.
3. Put it in the oven and bake at 400 degrees for about
20 minutes, with the lid on. After removing from the oven,
let it stand for 10 minutes before serving.
4. Add rosemary, turnips, shiitake mushrooms, bell peppers
and baby corn according to preference.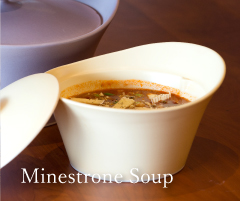 Ingredients (serves 3 to 4)
1 potato
1/2 carrot
1/2 onion
3 cabbage leaves
1 tablespoon garlic, minced
1 cup whole peeled tomato
olive oil
pinch of salt
pinch of pepper
pinch of parsley, minced
-Soup-
3・3/4 cups water
3 cubes of chicken bouillon
Directions
1. Chop the potato, carrot, onion
and cabbage leaves into 0.5in pieces.
2. Heat olive oil in your HACHI and sauté the garlic.
Add the chopped vegetables and cook until soft,
and add the tomatoes. Crush while adding.
Add the soup and bring to a boil.
3. Reduce the heat to medium and simmer for 10 minutes.
Season with salt and pepper, and top with parsley